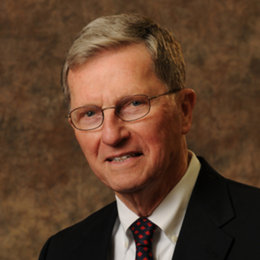 John T. "Jack" Hume III
Former Counsel (Retired)

Phone: (317) 632-4402
Fax: (317) 632-5595
Email: jhume@humesmith.com
John, known by his friends as Jack, is a third generation lawyer. He was born and raised in Indianapolis. Jack received his BS from the Indiana University School of Business in 1955 and his Doctor of Jurisprudence from its School of Law in 1958. In June of 1958, he joined this firm which was then known as Smith & Jones. Jack is retired from the practice of law.
Jack has spent his professional life in general civil litigation and more recently in insurance coverage matters. In 1967 he became a member of the Federation of Insurance and Corporate Counsel. In 1981 he was inducted in the American College of Trial Lawyers as a Fellow. Jack served as a Director (1985-1991) and President (1991) of the Defense Trial Counsel of Indiana. In 1992 he received this organization's Diplomat Award. Every year since 2004, he has been designated as one of Indiana's Super Lawyers by his peers. In 2006 and for every year thereafter he has been selected as one of the Best Lawyers in America.
Jack was one of the Firm's four Eagle Scouts. He is a long-time resident of Danville, Indiana, and worships at Danville West Bridge Church. He spends his retirement playing golf and visiting his seven grandchildren.