History of Firm Name
1951 - Smith, Gammon & Jones
1952 - Smith & Jones
1985 - Hume, Smith, Geddes & Green
1995 - Hume, Smith, Geddes, Green, & Simmons
2000 - Hume Smith Geddes Green & Simmons, LLP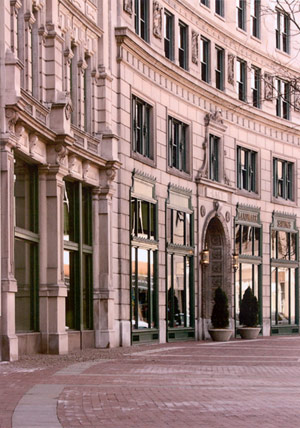 A History of Excellence
Hume, Smith, Geddes, Green & Simmons, LLP, originally founded in 1951 as Smith, Gammon & Jones, has grown to be one of Indianapolis' most respected mid-size law firms. Our office is located in the heart of downtown Indianapolis on Monument Circle, allowing immediate access to both federal and state courts. Like many firms, our firm has evolved over the years from general practice beginnings to a law firm with the experience and capability to represent clients in a variety of capacities, including Insurance Law, Personal Injury & Wrongful Death, FELA Claims, Estate Planning & Probate, Business & Commercial Law, Governmental and Municipal Liability, Complex & Mass Tort Litigation, Toxic Torts, Professional Liability, Medical Malpractice, Employment Law, Appeals & Appellate Law,General Civil and Business Litigation, and Mediation & Arbitration. Our lawyers are licensed to practice law in all state courts in Indiana and Illinois, the United States District Court for the Northern District and Southern District of Indiana, the United States Court of Appeals for the Seventh Circuit, and the United States Supreme Court.
Experience Makes A Difference
Like death and taxes, litigation has become one of life's inevitabilities for many clients. At Hume, Smith, Geddes, Green & Simmons, LLP, we strive to assist clients in avoiding litigation whenever and wherever possible through careful planning, conflict avoidance and the use of alternative forms of dispute resolution such as mediation and arbitration. Our broad range and years of litigation experience, however, make us a powerful ally when litigation becomes a necessity. While experience is important, our lawyers also appreciate the personal relationships that are at the heart of the legal profession. We understand it is imperative that attorneys foster and promote communication with clients that yields timely and consistent results. Instead of dealing with lengthy delays and unnecessary hierarchies, our attorneys are empowered to personally handle the legal needs of our clients in a timely and cost-effective manner.
To continue to maintain current legal knowledge and exposure, our attorneys are members of the following legal organizations:
American Bar Association
Indiana State Bar Association
Indianapolis Bar Association
American College of Trial Lawyers
Federation of Defense and Corporate Counsel
Defense Research Institute
Indiana Trial Lawyers Association
American Association for Justice
Defense Trial Counsel of Indiana
Federal Bar Association
Seventh Circuit Bar Association
Indiana Municipal Lawyers Association
An Experienced Staff and Innovative Technology Complements Our Attorneys
We support our lawyers with an experienced staff and technology. Most of our support staff have been with the Firm for over fifteen years. Our firm is also committed to the use of technology and provides our lawyers with access to the widest range of information resources, promoting the growth of our multi-disciplinary team approach to the increasingly complex and potentially costly legal challenges clients face. While stressing technology in our practice, we don't forget the principles of honesty, integrity, and good old-fashioned personal service. At Hume, Smith, Geddes, Green, & Simmons, LLP our dedication to quality, understanding of the law, trust, respect and civility form the foundation of long-standing relationships with our clients and other counsel. For further information please contact us today. We offer:
Broad legal experience in complex civil litigation and appeals
Lawyers certified as Indiana arbitrators and mediators
Convenient office location in downtown Indianapolis on Monument Circle
Efficient and effective legal representation
A reputation for success for over 60 years