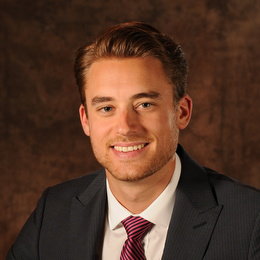 Bryan "Bryce" K. Perkins, Jr.
Associate
phone (317) 632-4402
fax (317) 632-5595
email bperkins@humesmith.com
Bryce was born and raised in the Indianapolis area, having graduated from Center Grove High School on the south side in 2006. He went on to study at Taylor University where he earned his B.A. in Political Science in 2010. Following college, Bryce spent 6 months in Quito, Ecuador, volunteering, traveling, and studying Spanish, earning a certificate in Spanish proficiency from the Simon Bolivar Spanish School.
Bryce received his legal education from the Pepperdine University School of Law in Malibu, California, where he earned his J.D. and Certificate in Dispute Resolution in 2015. Additionally, he spent a semester mediating small claims in the Los Angeles County Superior Courts through Pepperdine's Mediation Clinic. In his final year, he spent the fall semester studying abroad in London, UK, where he was able to travel throughout Europe and compete in moot court competitions. During law school, Bryce traveled back home to Indianapolis for the summers to work for the Marion County Prosecutor's Office and another Indianapolis law firm.
Bryce joined Hume Smith in 2015, primarily focusing his practice in insurance defense. He is admitted to practice in the State of Indiana (2015), as well as both the Northern and Southern Federal District Courts in Indiana. Bryce is a member of the American Bar Association, the Indiana State Bar Association, and the Indianapolis Bar Association.
Currently, Bryce is enjoying life on Indy's north side with his wife and English bulldog, Ralph. In his free time, he enjoys playing tennis, golf, guitar, riding his bike, traveling, and rooting for the Colts, Pacers, Chelsea FC, and IU basketball.