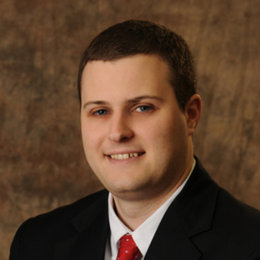 William D. Beyers, CPCU
Senior Associate
phone (317) 632-4402
fax (317) 632-5595
email bbeyers@humesmith.com
William D. Beyers (Bill) was born in Indianapolis and has spent most of his life in central Indiana. During his youth, he lived in Hancock County and moved to Carmel, Indiana in Hamilton County where he attended Carmel High School.
Before beginning his career as an attorney, Bill attended Indiana University in Bloomington, Indiana where he obtained a BA in Psychology. After undergrad, he attended Indiana University School of Law in Indianapolis and graduated in May of 2009. While in law school, Bill was a Notes Editor for the International and Comparative Law Review. Bill also clerked in the Marion County Probate Court for Judge Charles Deiter and in the criminal court for Judge Lisa Borges. He also worked as a Certified Legal Intern with the Marion County Prosecutor's Office. This position provided Bill with the opportunity to participate in both jury and bench trials before graduating.
After law school, Bill practiced insurance defense with the law firm of Bruce P. Clark & Associates in Northern Indiana, commonly known as the Region. Bill joined Hume Smith in February of 2011 and continues to concentrate his practice in insurance defense. Bill is admitted to practice law in all state courts and is also admitted to practice in the Northern and Southern District of Indiana. Bill is a member of the Indiana State Bar Association, Defense Trial Counsel of Indiana, Indianapolis Bar Association, the Indiana Trial Lawyers Association, and the Chartered Property Casualty Underwriter (CPCU) Society of Central Indiana.
Presently, Bill resides with his wife, son and two daughters in Carmel, a suburb of Indianapolis. Bill and his wife worship at Genesis Christian Church in Carmel, Indiana. In his free time, spends time with his family, enjoys learning Spanish, and follows the IZOD IndyCar series, IU Basketball, Pacers, and Colts. He is also a member of the Talking Heads Toastmasters club in Indianapolis and is a Director for the Central Indiana CPCU Society.
Publications:
"Law Makes Dishonesty Legal on Publications," The Indiana Lawyer, August 17, 2011
2015 Editor for A.M. Best Insurance Law Digest for Indiana
Awards:
2014, 2015, and 2016 Rising Stars, Super Lawyers
2013 Rising Star CPCU Society, Central Indiana
Notable Decisions:
Goodman v. GMH Snyder Farms, 962 N.E.2d 702 (Ind. Ct. App. 2012)
Chubb Custom Ins. Co. v. Standard Fusee Corp., 2 N.E.3d 752 (Ind. Ct. App. 2014)
Sorrells v. Dr. Karen Reid-Renner, 49 N.E.3d 647 (Ind. Ct. App. 2016)